Summer 2020 at The Dance Spot
Make dance the highlight of your child's summer at The Dance Spot! We are excited to offer summer classes, half-day & full-day camps, workshops, and intensives during the Summer 2020 season. Join in the fun and reserve your spot today!
We are following the Center for Disease Control and Texas Health & Human Services recommended procedures for the prevention of Coronavirus and have taken extra safety precautions you can read about HERE.
900 Round Rock Ave, Suite 220 Round Rock, TX 78681   512-244-3363
Tiny dancers will explore the beginning of dance each week with an action-packed fun theme! Each day will include; dance, arts and crafts and activities each day with a performance at the end of the week! Our camps are taught by our professional, experienced staff, and we offer a low student to staff ratio, with help from our assistants. Specific dance attire and shoes are not required, just come comfortable and ready to move. Students will need to bring a packed lunch, water bottle, and snack (Please note, we are a nut-free studio). Space is limited, and camps will fill up quickly, so reserve your spot today!
Dates: July 27-31
Ages:  3-5 (must be potty trained)
Cost:  $225 or $50/day drop-in 
Time:  9:00am-1:00pm
Jump over the rainbow into an action-packed week of trolls! We will explore the basics of dance as we use creative storytelling to adventure far and wide! Get creative as we create fun arts and crafts and discover how far friendship takes us! ENROLL HERE
900 Round Rock Ave, Suite 220 Round Rock, TX 78681   512-244-3363
The Dance Spot offers a variety of opportunities for dancers to train over the summer. Our half-day workshops will ignite your creativity, challenge your body and mind, and further your technique and skills! Take your training to the next level and sign up today!
Dates: July 28-30
Ages: 10+ Beginner
Cost:  $150
Time: 12:30pm-3:30pm
Perfect your tap technique in this Tap 101 workshop designed to challenge, inspire and develop your tapping skills. This workshop is designed to develop and enhance music theory, rhythmic coordination and audible articulation of the feet. Students will be challenged in a way that leaves them feeling motivated and inspired! ENROLL HERE
Intensives
900 Round Rock Ave, Suite 220 Round Rock, TX 78681   512-244-3363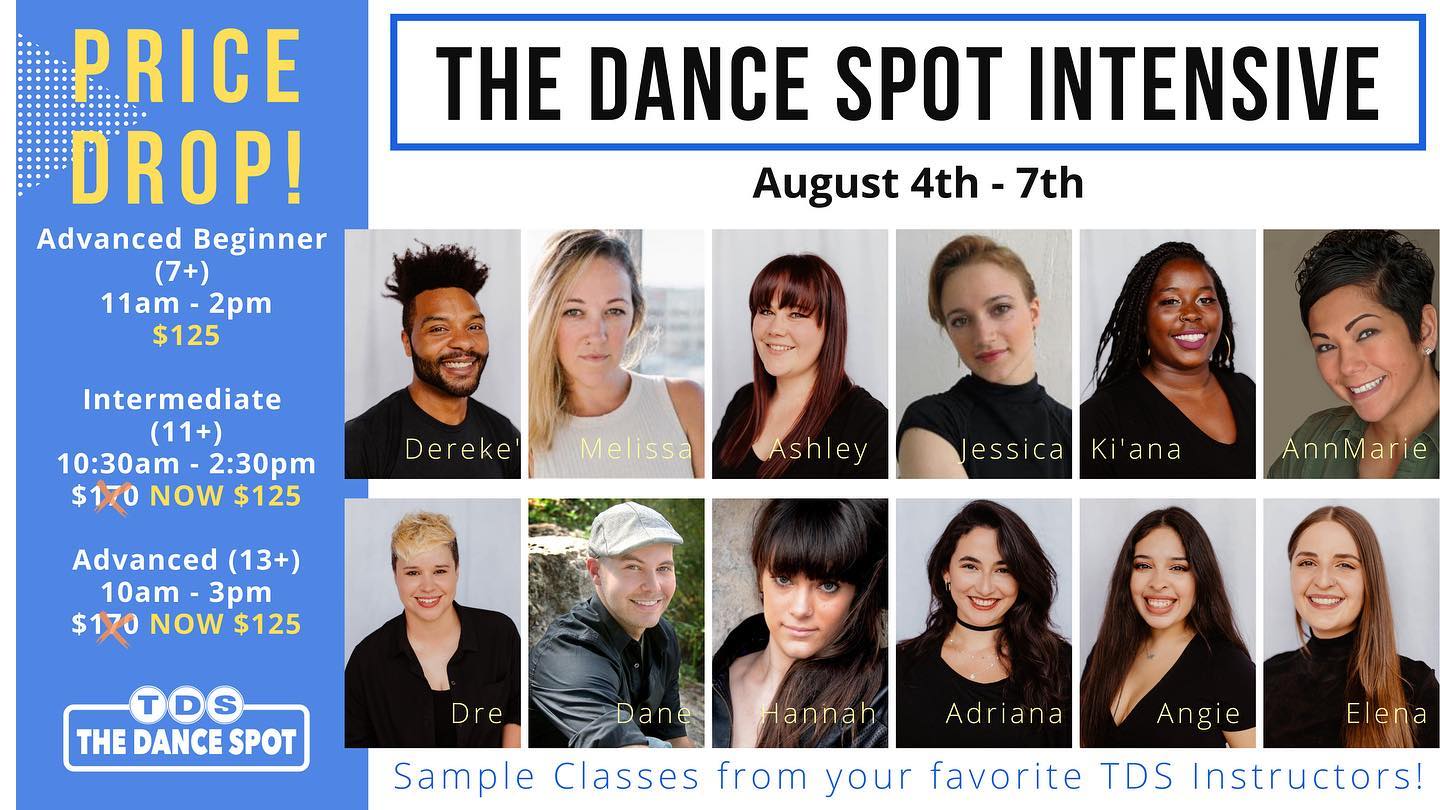 Ages 7-10 / Thurs-Fri / 11am-2pm $125
Ages 11+ / Hi Int / Tues-Fri / 10:30am-2:30pm $125
Ages 13+ / Advanced / Tues-Fri / 10:00am-3:00pm $125
Our Dance Spot Intensive is designed to inspire dancers and further their technical and artistic training in a welcoming, all-inclusive environment. This program is ideal for the dancer who would like to broaden his/her understanding of various dance styles and may be interested in getting into the convention or competitive dance team world. Classes will be taught by our passionate, engaging, in-house instructors and is a great opportunity for students to get exposure to more of our TDS faculty. In order to allow for more class time and lower the pressure of performing, there won't be an end of week perforrmance.