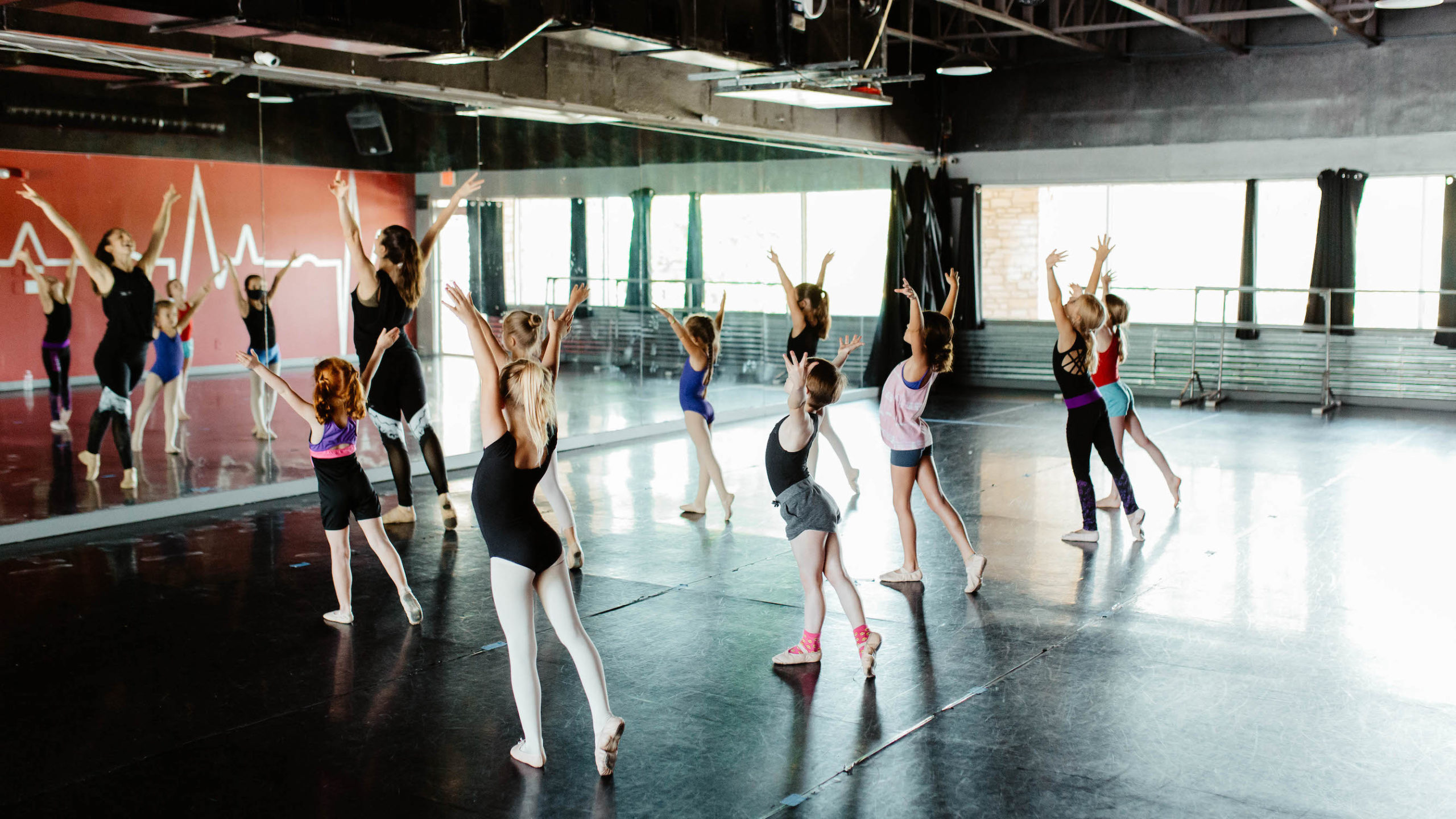 The Dance Spot is moving! A brand new facility is being built on Sam Bass Road, and will be our new home in late fall. If you are registering for fall/spring classes, please note the new address:

4400 Sam Bass Rd, Round Rock, TX 78681.

Follow us on social media for updates. In the meantime, take a look at what the new space will look like in this video:
Acro 
This class incorporates a lot of strength training so that students can continue to build the muscles that will help them master more advanced tricks and tumbling. Each student will receive one on one spotting and instruction as they go across the mat so that they can build confidence in their body's ability. The Dance Spot's acrobatic classes fuse dance technique with acrobatic motion, and the tricks taught in this class will be incorporated into studio performances. Enroll Acro Classes
Ballet
Ballet is a beautiful, athletic art form that has been amazing audiences for centuries. It is a disciplined form of dance that strives for perfection while exuding elegance, grace, and control. Ballet class is the study of body positions, awareness, and alignment. It is a poised style of dance that incorporates the foundational techniques for many other dance forms and is highly suggested as a base to be taken before and during further dance training. This genre of dance is very hard to master and requires much practice but is endlessly beneficial. Dancers will work to improve posture and flexibility. They will concentrate on pointing their feet, strengthening ankles, understanding and increasing turn out, using their plie', learning to stretch fully through their extensions while keeping their joints supported, etc. Enroll Ballet Classes
Ballroom
This class gives a student's dance education concrete meaning by providing specific goals to work towards and milestones to attain with a focus on developing a higher level of understanding of the mechanics and technique of dance. Ballroom class is designed to learn various styles of Ballroom and Latin dances like Chacha, Samba, Jive, Waltz, Tango, etc.  Kids will learn techniques and combination of steps that will allow them to dance as individuals, formations, or as couples.  This class helps develop multiple dance skills, physical skills such as social skills. Enroll Ballroom Classes
Body Conditioning/Skill Building
Body Conditioning/Skill Building offers a focused approach to strength and conditioning and is formulated to advance dancers' strength in muscle group areas specifically called upon for ballet technique. The students will see a lot of exercises that they may see in ballet, but these exercises are usually done in a more repetitive/intense way to build strength and stamina. There are also exercises and stretches integrated into the class that stems from pilates and yoga practices. This class is considered a ballet credit because of the intentional conditioning to improve turnout, height of develop and jumps, depth of plie, balance, flexibility, etc. The class follows themes that are also presented in ballet classes simultaneously so as to further reinforce technical ideas and practice. Enroll Conditioning/Skills
Contemporary
Contemporary is a fusion where dancers use every kind of movement, with strong lyrical components but, you will see flares of jazz, ballet, hip hop, salsa, theatrics, mime, modern, pedestrian movement, and more. The fun is in the blending. This class will have a short warm-up and then spend the majority of class learning and dancing to new combinations every week. Whether inspired by a song, a feeling, a vision, or just a wild hair, each combination will be unique and allow for much individual artistic freedom. Enroll Contemporary Classes
Hip Hop
Hip hop is a very energetic form of dancing. It is unique in that it allows its dancers to perform with freedom of movement, adding in their own personalities. Hip hop dancing is an ideal way to express one's creativeness. It features self-impressions, and the dances come from the soul. The dancing represents body movements that go with the beat and rhythm of hip hop music. This class focuses on breaking, popping, locking, and freestyling in hip hop dances. Dancers will practice various techniques, steps, and moves focusing on rhythm, clear and elaborate execution, and musical interpretation. Enroll Hip Hop Classes
Jazz
This style of dance is fun and energetic and tends to be a favorite. It is used highly in commercial industries for its entertainment value. Jazz dance has roots in ballet, modern, acrobatics, African rhythm, Caribbean, etc. and is constantly influenced by all genres and, in turn, jazz also influences them. Jazz is normally more up beat, and tends to be more grounded, with strong various movement and dynamic. Our classes will begin with a warm-up exercising muscles and joints to increase strength and mobility. Dancers will work to find The Dance Spot by using their central core and practice coordination techniques and isolations. This will be followed by stretches to increase flexibility and understand turn out. Next will be progressions across the floor, learning transitions, footwork, turns, extensions, jumps, leaps, floor work, etc. Enroll Jazz Classes
Modern/Lyrical
Classic forms of modern dance, such as the Lester Horton Technique, or the teachings of Martha Graham, are a foundational cornerstone of dance in the United States and around the world.  Like ballet, these codified systems of instruction and execution have tried and true historical roots and have become staples in the dance vocabulary of today's professional companies and repertoires. Knowledge and practice in classic modern technique serves not only to strengthen the technique of aspiring professional dancers, but to provide strong foundations that allow artistic freedom when executing unfamiliar, difficult, or particularly nuanced choreography. This class is centered upon developing the various forms of modern techniques and enhancing the range and versatility of our dancers here at TDS.  Enroll Lyrical Classes
Pointe
Muscle memory and repetition are essential to light, ethereal pointe work. This is a class that stresses precision and strength while emphasizing the beauty of a traditional art form. Dancing on pointe should be considered a privilege, the reward for hard work in ballet technique, and participation will be determined by the instructor, with safety and injury prevention top of mind. Throughout the year, students will work on strengthening ankle and foot muscles, increasing their awareness throughout their bodies, and establishing correct alignment for pointe work. Note that dancers in this class are required to be enrolled in 3 ballet classes per week and a ballet class immediately preceding any Pointe class. Enroll Pointe Classes
Tap
Tap classes are designed to develop rhythm, style, and sound. Students will learn a variety of tap styles from Broadway to Rhythm tap. Exercises focus on building flexibility of the knee and ankles, coordination, and speed of movement. The class emphasis is on developing proper tap technique, producing clear tap sounds, and having fun. As students progress through each level curriculum will become increasingly more complex and intricate. Enroll Tap Classes
Technique
This fun and challenging class focuses on learning "dance tricks": jumps, turns, floor work, and combinations of each. Students will gain strength and placement through conditioning exercises to warm up. These training routines focus on the dancers' core as well as feet and ankles and will be done in consistent repetition to encourage improved jumping and balancing techniques. Students will then be guided in the proper way to approach their tricks safely, and with correct technique using guided progression tactics. They will practice proper execution, blending tricks with choreography, as well as implementation of acro skills. Dancers can perfect their traditional jumps and turns, be challenged to obtain some new exciting tricks, and maybe even create some of their own! Enroll Technique Classes
2023-24 Fall/Spring Class Schedule
Natalia Hornsey
2021-11-16
My daughter has been going here for a couple of months. I must say it is an upgrade from the last place we were at. They are very knowledgeable on all types of dance. I love how they are very structured and strict when it comes to hair and dance gear m.. The instructors are all very sweet and have backgrounds in dance .I love this place even though it's further from my house and the location is horrible with the traffic but it is worth it
I love this place . I was a professional dancer back in the day so deciding were to put my daughter was a tough choice . They are so nice and couldn't be more happy . Ms Lisa is so sweet and a great teacher with our little ones . She knows how to keep the class going and that's hard with 2-3 year olds. My two year old has her days where she doesn't want to wear her tap shoes and no one forces hers too ! They just let the Two year olds be two year olds! She has learned so much and I love all the shows and extra events they offer! We had a blast at the trunk or treat event! Love love this place!
Beautiful space and friendly staff. The competition team is one of the best I've ever seen!! Highly recommend!!!
Super organizado y precavido, su personal muy atento y amigable. Bueno para cumplir los sueños de nuestras hijas😍
Ashley Laubscher
2020-08-11
Beautiful clean well staffed dance studio.