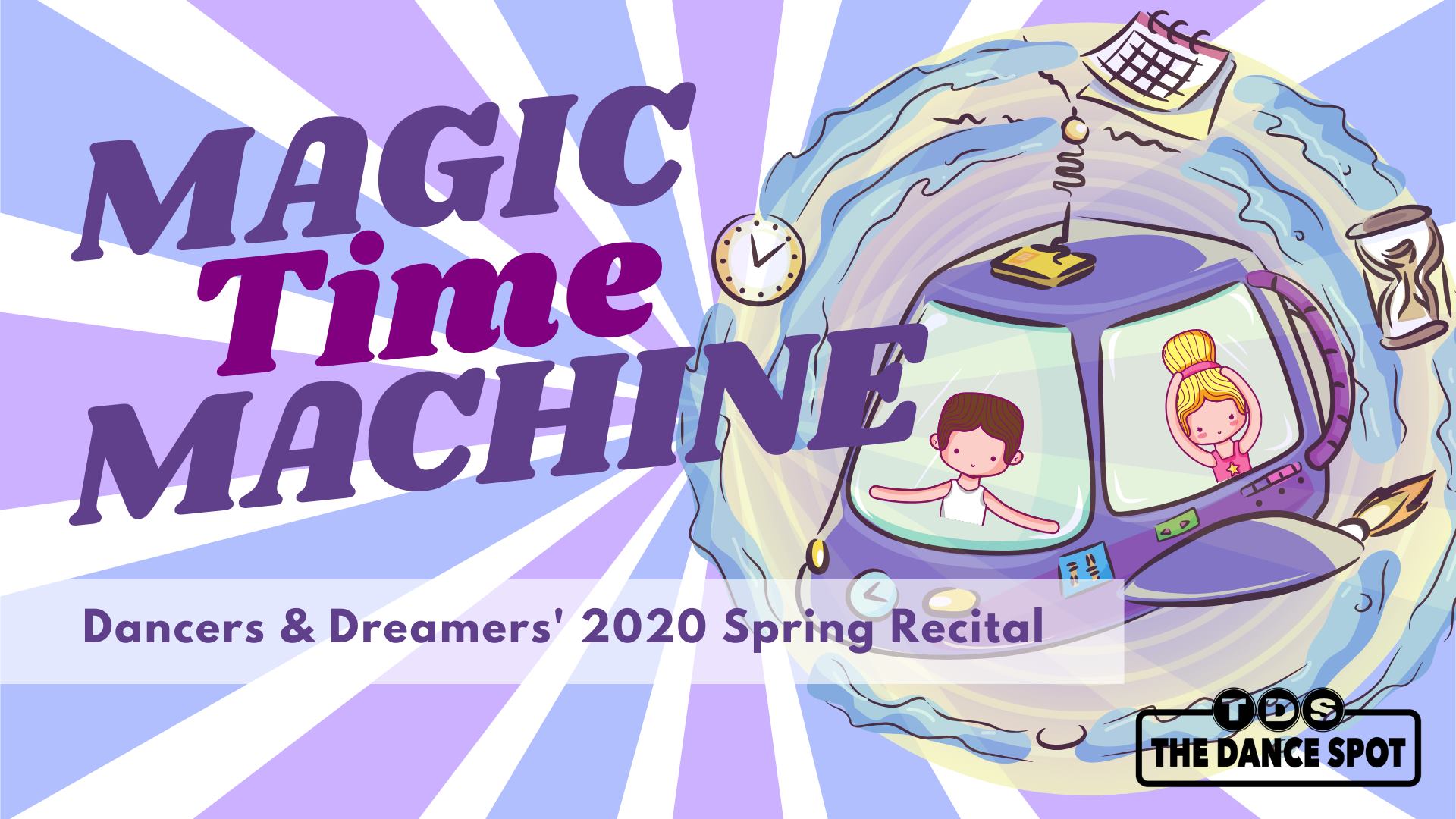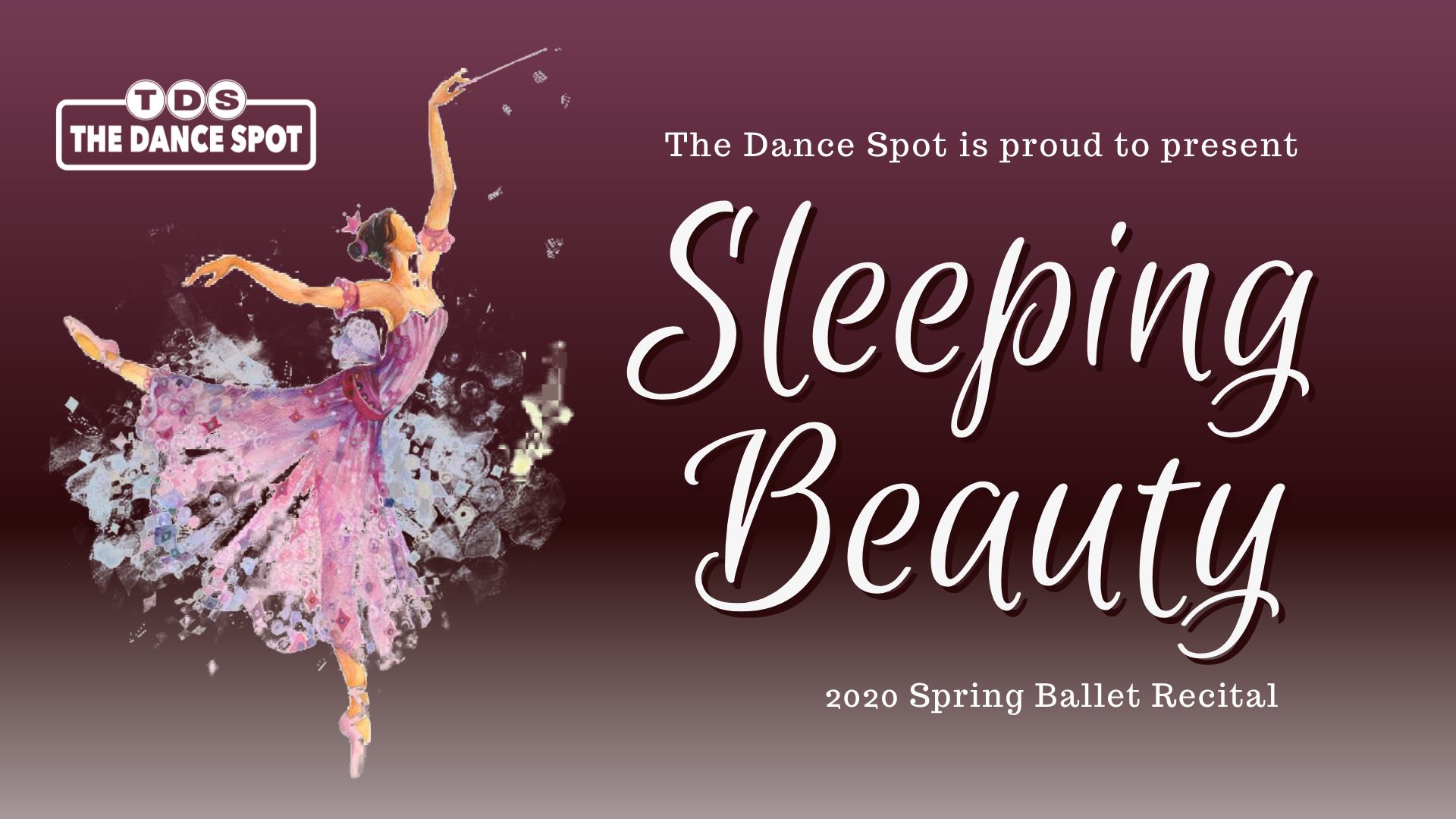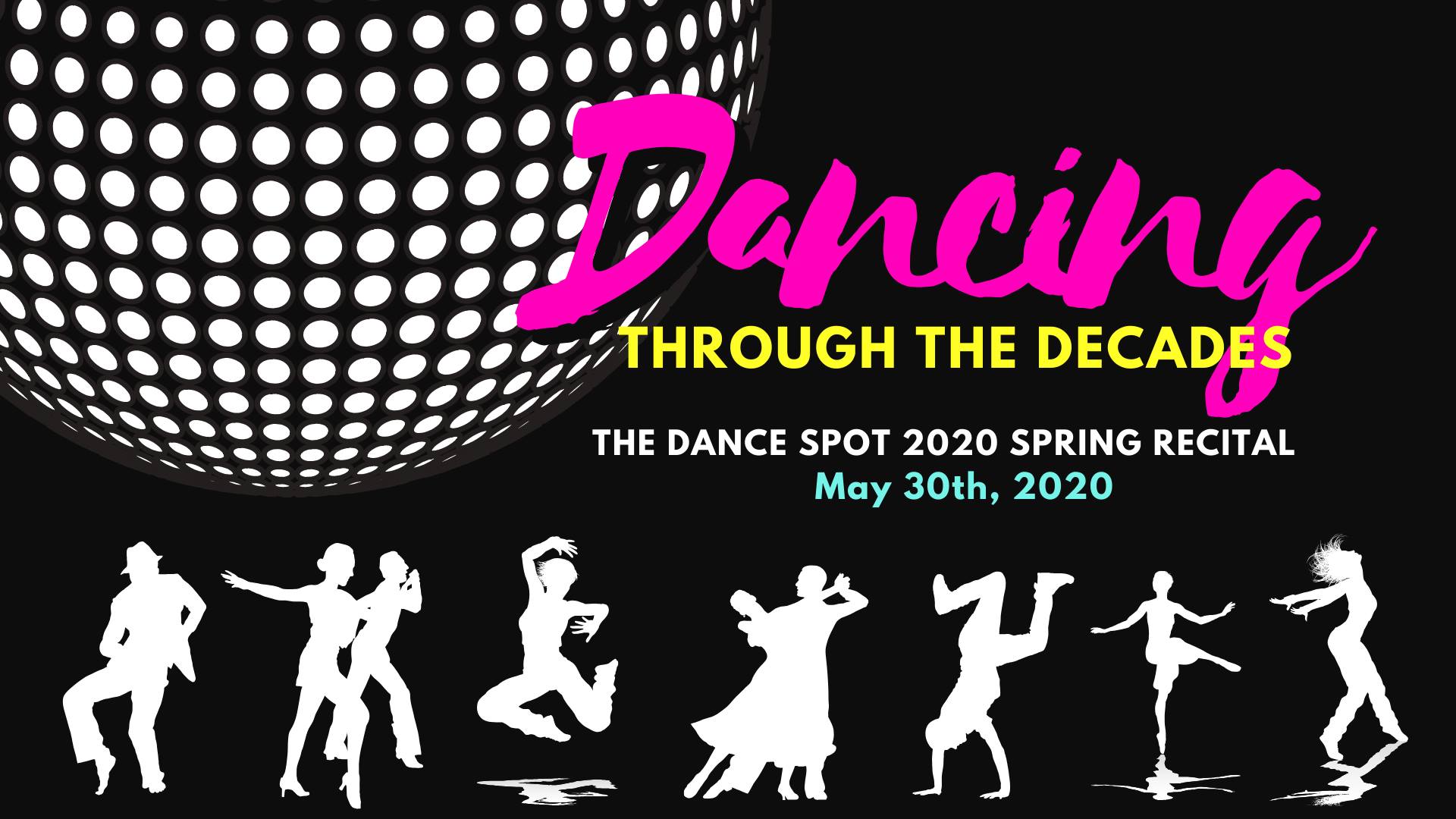 UPDATED 5/22/2020
The Dance Spot will be presenting a scaled-down version of recital, outdoors behind the studio on a temporary stage, May 29th and 30th. Families will have a designated 6' x 6' space where they are able to set up their own lawn chairs/blankets to have a picnic! There is also a lovely grassy area next to the parking lot; however, that park is open to the public, and there may be many people already there enjoying the creek.
Magic Time Machine – May 29th, 5:00pm
Dancing Through The Decades – May 30th, 4:30pm
Sleeping Beauty – June 13th
Recital Plan
We will spread out the show over a longer time period but will do our best to keep your child(ren)'s dances as close together as possible, to prevent you having to be there for too prolonged of a period of time, while still minimizing the amount of occupancy/exposure in the building at any one time. We will be staggering the check-in times for dances by 10 minutes to reduce "traffic jams" in the building. Please be right on time. If you are early, we do appreciate that, but will ask that you wait outside right until check-in. Please bring little to no baggage with you and come 100% ready to walk onto the stage and perform (please DO NOT plan to get dressed and do your makeup in the studio bathrooms).
Arrival and Check-in: upon arrival, you will be directed where to park. Once parked, head down to the backside of the building. There will be a table situated at the bottom of the stairs for your dancer to check-in. Your dancer will then be directed to the top of the stairs, where they will be greeted by another friendly face (parents, at that point, may go to their reserved place in the audience, or the grassy area, or to their cars. Wherever your families feel the most comfortable)! Dancers will be given hand sanitizer, and the bottom of their shoes will be sanitized, to eliminate germs being brought into space. From there, the dancers will move to Studio 5 for a 10 minute rehearsal of their dance.
Dancers will then be led out to the temporary outdoor stage behind the studios and perform their dance. After they perform, and the dancer has no other dances that they are in, parents will pick up their dancer off the side of the stage.
They can then go to Studio 6 to get their individual photos taken, for FREE, for a keepsake. Photos will be provided DIGITALLY only (more distribution information will be provided at the time of photos).
If your dancer has another dance, they will go to either Studio 3 or Studio 4, which will be set up as available dressing rooms. Studio 3 Dressing Room: Ages 5-9yrs. Studio 4: Ages: 10+. Boys: Bathroom 1 (limit one boy at a time).
Parents will be watching from the parking lot (reserved spots) and grassy public park area and can spread out on blankets, wear masks, etc (whatever helps you feel most comfortable).  Please bring lawn chairs, if you prefer, as TDS will not be providing chairs, for sanitation purposes.
Parents will not be allowed in the backstage area. Instructors and other staff members will be accompanying all classes.
We will also record and live stream these performances, so that anyone who isn't able to or doesn't feel comfortable attending, can watch.
An email of arrival/check-in times, as well as full show lineup, will be sent by next Tuesday, May 26th. D&D families: please plan to be at the studio, on Friday, May 29th, sometime between 5:00pm – 7:15pm. For the variety show, on Saturday, May 30th, we estimate the first call time to be 4:30pm and the ending time to be around 8:00pm. Again, full details and exact times will be emailed no later than next Tuesday.
Click
HERE
for details about all of the health and safety protocols that we have put into place.
Thank you for helping us to create a special day for your precious kiddos!  We're excited to see them perform!
Best,
The TDS Staff
Below is a list of participating classes in each of the shows. This is NOT the show order.
Magic Time Machine – Dancers & Dreamers (Ages 2-5) 
| | | | | |
| --- | --- | --- | --- | --- |
| Day | Start Time | Class | Ages | Instructor |
| Monday | 4:00 PM | Classic Combo | 2-3 | Amanda Howes |
| Monday | 5:00 PM | Classic Combo | 4-5 | Alicia Gravis |
| Tuesday | 3:30 PM | Funky Monkey | 2-3 | Angelina Barba |
| Wednesday | 11:00 AM | Classic Combo | 4-5 | Amanda Howes |
| Thursday | 4:00 PM | Fairytale Ballet | 4-5 | Jackie Courchene |
| Saturday | 9:30 AM | Classic Combo | 2-3 | Neda Ashour |
| Saturday | 10:30 AM | Classic Combo | 3-4 | Neda Ashour |
Sleeping Beauty – Ballet 
| | | | |
| --- | --- | --- | --- |
| Day | Start Time | Class | Instructor |
| Monday | 5:30 PM | Ballet L2 | Hannah Woolridge |
| Monday | 5:30 PM | Ballet L3 | Pallas Sluyter |
| Monday | 7:00 PM | Ballet L4 | Pallas Sluyter |
| Tuesday | 6:30 PM | Ballet L2 | Jackie Courchene |
| Thursday | 5:00 PM | Ballet L2 | Jackie Courchene |
| Thursday | 7:30 PM | Ballet L3 | Jackie Courchene |
| Thursday | 6:00 PM | Ballet L2 | Jackie Courchene |
| Tuesday | 4:30 PM | Ballet L1 | Megan Richards |
| Tuesday | 4:30 PM | Ballet L1 | Jackie Courchene |
| Thursday | 4:00 PM | Ballet L1 | Pallas Sluyter |
Dancing Through the Decades – (Ages 6-18)
| | | | | |
| --- | --- | --- | --- | --- |
| Day | Start Time | Class | Ages | Instructor |
| Monday | 4:30 PM | Contemporary | 9-11 | Dane Burch |
| Monday | 6:00 PM | Jazz | 12+ | Kalee Irwin |
| Monday | 7:00 PM | Contemporary | 9-12 | Dane Burch |
| Monday | 7:00 PM | Contemporary | 12+ | Hannah Woolridge |
| Monday | 8:00 PM | Jazz | 12+ | Kalee Irwin |
| Tuesday | 4:30 PM | Hip Hop | 9-11 | Angelina Barba |
| Tuesday | 4:30 PM | Jazz | 7-11 | Quinton Weathers |
| Tuesday | 5:30 PM | Contemporary | 9-11 | Jackie Courchene |
| Tuesday | 5:30 PM | Hip Hop | 9-11 | Angelina Barba |
| Tuesday | 6:30 PM | Hip Hop | 5-7 | Angelina Barba |
| Tuesday | 8:00 PM | Modern | 12+ | Jackie Courchene |
| Wednesday | 4:00 PM | Hip Hop | 7-9 | Dereke Thompson |
| Wednesday | 4:00 PM | Jazz | 6-8 | Quinton Weathers |
| Wednesday | 5:00 PM | Contemporary | 12-18 | Kalee Irwin |
| Wednesday | 5:00 PM | Boys Hip Hop | 6-10 | Dereke Thompson |
| Wednesday | 5:00 PM | Tap | 7-9 | Andrea Torres |
| Wednesday | 6:00 PM | Hip Hop | 12+ | Dereke Thompson |
| Wednesday | 6:00 PM | Tap | 9-12 | Andrea Torres |
| Wednesday | 7:00 PM | Ballroom | 9-11 | Mark Moy |
| Wednesday | 8:00 PM | Tap | Teen | Andrea Torres |
| Thursday | 6:00 PM | Hip Hop | 10+ | Dereke Thompson |
| Tuesday | 3:30 PM | Acro | 5-7 | Amanda Howes |
| Tuesday | 4:30 PM | Acro | 9+ | Amanda Howes |
| Tuesday | 5:30 PM | Acro | 5-7 | Amanda Howes |
| Tuesday | 6:30 PM | Acro | 7+ | Amanda Howes |
| Tuesday | 8:00 PM | Acro | 9+ | Amanda Howes |