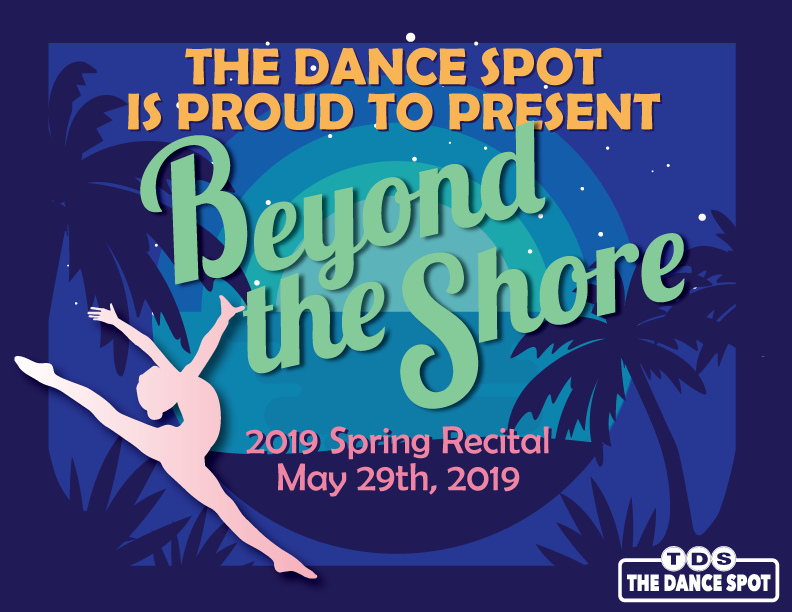 We are thrilled to present our 2019 spring recital showcase, "Beyond the Shore", on May 29th.
Please read through this letter to get important information leading up to recital, and email info@thedancespotx.com if you have any other questions.
Costumes: Costumes are arriving, and we are so excited! We will be sending out notification before your dancer's costume pick up class. Please be available to come in the last 20 minutes to help try on the costume and sign off on it. Another adult/guardian may come in your place to sign off and take home the costume if needed.
Please make sure you are 100% satisfied with the fit of your dancer's costume, and keep in mind that these costumes are not made to each dancer's custom measurements; if any minor alterations need to be made, they will be at your expense. Any alterations for sizing that you deem necessary can be done (at your expense) as long as this does not alter the look of the costume. Once you take your costume home, there will be no refunds, returns, or replacements. If the costume does not fit to the extent that a new size must be ordered, then please communicate this to your instructor and they can inform our Recital Costume Manager so an exchange can be attempted. Please do not sign off or take home the costume if it needs to be exchanged.
All costumes must be signed out before taking home; if you are unable to attend class the day of, you can easily get it in the next class or from the front desk during their office hours.
Getting Ready:
Mark the rehearsal and show dates on your calendar.
Make sure to check the spelling of your dancer's name in Studio Director. Access Studio Director here. If you do not have your login information, click on the "forgot your password?" link. When prompted, please provide your email address to be emailed a link to reset your account password. If the system does not recognize your email address, and you have tried additional email addresses you have provided in the past to Balance, please contact our front desk, and we will be happy to help guide you.
Be sure you have the appropriate dance shoes and tights (where applicable) for your dancer(s).
Attendance this semester is extremely important for recital participants. Each of our lovely dancers is a vital instrument to the piece their class is preparing to perform. All dancers must be present weekly in order for them to successfully rehearse choreography, timing, formations, and staging. This is a wonderful opportunity for dancers to experience and learn from working as a team and how gratifying that can be when it all comes to life on stage!
Pictures: We will be taking group pictures at dress rehearsal after your dancer performs. (Please note: parents will not be accompanying their dancer into the actual photo session for group photos.) There will also be an opportunity for individual photos. More information on pictures coming soon.
Tickets: 4 tickets are provided as part of your recital fee (6 if you have more than 1 dancer performing in recital). Extra tickets are $10 each and will be available for pre-purchase (or $12 at the door). Tickets will be available to pick up at the front desk the week prior to the show. Any unclaimed tickets will be available at will call in the lobby the day of the show.
Shout outs and Business Ads: Shout out/Good luck Messages and Business ads are available for purchase by filling out the following google forms. ALL messages, pictures and business ads must be submitted by APRIL 16th to be included in the program.
Click HERE to purchase a Shout out Ad & Click HERE to purchase a Business Ad.
DRESS REHEARSAL & PICTURES
TUESDAY, MAY 28TH, 5:00pm
Cedar Ridge High School, at 2801 Gattis School Rd, Round Rock, TX 78664
Dancers should arrive on time to their call time, ready to go. "Call Time" means that your dancer should be dressed, with stage makeup done and completely ready to go on stage, by that set time.
A detailed schedule for each class call time will be provided as soon as it is solidified.
Dancers may leave after their dance has rehearsed (if a dancer is in more than one dance, we ask that the dancer leave after his/her last dance is rehearsed).
RECITAL DAY
WEDNESDAY, MAY 29TH 6:00pm
Cedar Ridge High School, at 2801 Gattis School Rd, Round Rock, TX 78664
Check-in:
Dancer call times: Act 1- 5:00pm and Act 2 – 6:30pm – Click HERE for the list of classes by act.
Dancers will check in 1 hour before the act in which they are performing (check-in times per class will be issued as soon as they are solidified).
Signs in the lobby will direct parents to the check-in station and, after drop-off, parents can reserve a seat in the auditorium when doors open at 5:30pm.
Dancers should arrive in full costume, girls' hair pulled back in a bun (unless alternate directions have been given by teacher on the class recital handout), and stage makeup!
Pick Up:
Dancers will ONLY be available for pick-up IN BETWEEN ACTS. Please do NOT go backstage during the show to pick up your dancer. Any dancer who is not picked up during the 1st intermission may be picked up after Act 2.
Dancers 12 years old and older may check themselves out to watch the remainder of the show from the auditorium, but must make sure they have first collected all of their belongings, before exiting the dressing room area.
If you need to leave the auditorium for any reason during the show, please use one of the back two exits, and exit only between dance numbers, to keep disruption at a minimum!
Let friends and family know to arrive at least 30 minutes before the show, in order to get their tickets from will-call, and be there to get a seat when the doors open.
We will have items available for purchase before and after the show, as well as during intermission, so please bring cash for purchases!
We can't wait for a fantastic Recital 2019!
Thanks, The TDS Team