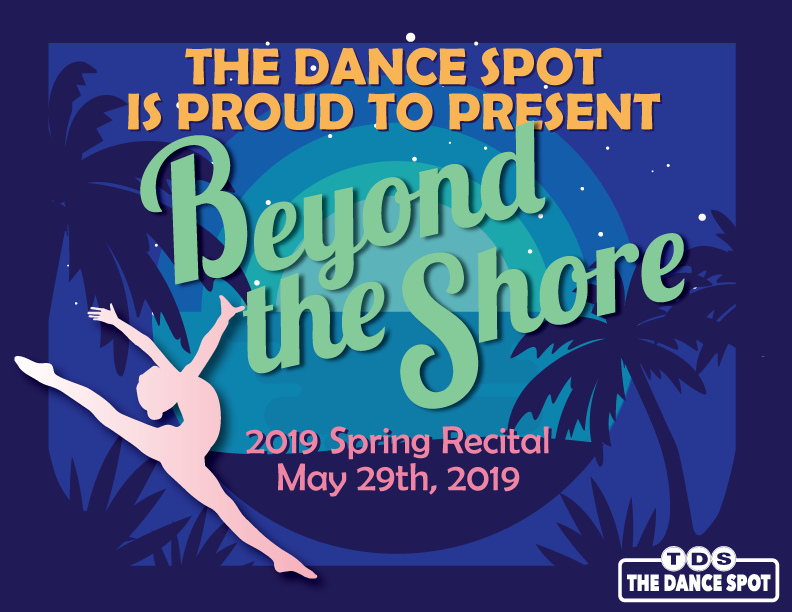 We are thrilled to present our 2019 spring recital showcase, "Beyond the Shore", on May 29th.
Please read through this letter to get important information leading up to recital, and email info@thedancespotx.com if you have any other questions.
DRESS REHEARSAL & PICTURES: TUESDAY, MAY 28TH
Click here for rehearsal call times by class
RECITAL DAY: WEDNESDAY, MAY 29TH 6:00pm
Click here for show day call times by class
Attendance this semester is extremely important for recital participants. Each of our lovely dancers is a vital instrument to the piece their class is preparing to perform. All dancers must be present weekly in order for them to successfully rehearse choreography, timing, formations, and staging. This is a wonderful opportunity for dancers to experience and learn from working as a team and how gratifying that can be when it all comes to life on stage!
Getting Ready:
Mark the rehearsal and show dates on your calendar.
Be sure you have the appropriate dance shoes and tights (where applicable) for your dancer(s).
Pictures: We will be taking group pictures at dress rehearsal after your dancer performs. (Please note: parents will not be accompanying their dancer into the actual photo session for group photos.) There will also be an opportunity for individual photos. Picture order forms are available at the front desk.
Tickets: 4 tickets are provided as part of your recital fee (6 if you have more than 1 dancer performing in recital). Extra tickets are $10 each and will be available for pre-purchase (or $12 at the door). Tickets will be available to pick up at the front desk the week prior to the show. Any unclaimed tickets will be available at will call in the lobby the day of the show.
DVDs: Pre-Order a DVD of the recital here: https://maginationvideo.com/ and receive $5.00 off! Use coupon code FS5 for FREE SHIPPING!
DRESS REHEARSAL & PICTURES TUESDAY, MAY 28TH, 5:00pm at Cedar Ridge High School, 2801 Gattis School Rd, Round Rock, TX 78664 
Dancers should arrive on time to their call time, ready to go. "Call Time" means that your dancer should be dressed, with stage makeup done and completely ready to go on stage, by that set time. Click here for rehearsal call times by class.
Dancers may leave after their dance has rehearsed (if a dancer is in more than one dance, we ask that the dancer leave after his/her last dance is rehearsed).
RECITAL DAY WEDNESDAY, MAY 29TH 6:00pm at Cedar Ridge High School, 2801 Gattis School Rd, Round Rock, TX 78664
Check-in:
Dancer call time: Act 1- 5:00pm and Act 2 – 6:30pm
Dancers will check in 1 hour before the act in which they are performing (Act 1- 5:00pm and Act 2 – 6:30pm). Please click HERE to view the list of classes by act.
Signs in the lobby will direct parents to the check-in station and, after drop-off, parents can reserve a seat in the auditorium when doors open at 5:30pm.
Dancers should arrive in full costume, girls' hair pulled back in a bun (unless alternate directions have been given by teacher on the class recital handout), and stage makeup!
Pick Up:
Dancers will ONLY be available for pick-up IN BETWEEN ACTS. Please do NOT go backstage during the show to pick up your dancer. Any dancer who is not picked up during the 1st intermission may be picked up after Act 2.
Dancers 12 years old and older may check themselves out to watch the remainder of the show from the auditorium, but must make sure they have first collected all of their belongings, before exiting the dressing room area.
If you need to leave the auditorium for any reason during the show, please use one of the back two exits, and exit only between dance numbers, to keep disruption at a minimum!
Let friends and family know to arrive at least 30 minutes before the show, in order to get their tickets from will-call, and be there to get a seat when the doors open.
We will have items available for purchase before and after the show, as well as during intermission, so please bring cash for purchases!
We can't wait for a fantastic Recital 2019!
Thanks, The TDS Team